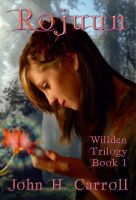 The Particulars: Epic Fantasy, Smashwords, available as e-book
The Source: Smashwords
The Grade: B-
The Blurb:
Rumors are spreading about a new race called Rojuun. They appeared from the depths of the mountains eight hundred years ago with the intention of taking over the world. Tathan of the Shadows has been charged with learning more about them. However, he must learn more about his very unusual companions before he can succeed.
The Review:
This is yet another freebie that languished unread for months before I decided to read it. I was pleasantly surprised by this one.
The world is like nothing I have read about. From the peaceful valley were Liselle and Tathan grew up, too the vast Willden Forest with its ruins and Druids. Not to mention the Rojuun and the caves they inhabitates.
The companions felt like an refreshing twist on the standard character tropes. From Tathan with his secrets, and protective instincts towards Liselle. I could understand him, since Liselle had never been out of the valley before, and was a bit naive. But that naivety was one of the reasons I liked Liselle so much. Then there is Vevin with his dances, and his curiosity towards the world. I giggled, a lot when I read about Vevin. And then there is Danth. I felt sad for Danth, who is the only one left of his people. I got goosebumps when I read about what happend to his world.
The plot felt like a standard fantasy plot, but there was enough of unique twists that made it feel a bit less standard. While I could put it down, I suspect that if I had started reading it earlier in the day I would have kept reading until the end.
The main problem I had with this book was connecting with what happened to the characters. The reason for that might be the author's tendency to describe things in too much details. I think another reason was that this is just one third of the plot, and that I will need to read the last two parts tooreally appreciate the world. And I do plan to read them, since I liked the story.