*glee* It is finally July, and I am soo excited. For starters, I'll have time to read more than 7 books this month.
Lorelei Adams has lost many things–her humanity, her life, even her son. She's always fought through her exhaustion, always stayed strong for her pack, but now there are new alphas to take care of the others. Unfortunately, time to rest means time to think about her own pain.

Colin Knox knows about exhaustion. He's acted as judge, jury and executioner to rogue wolves for over a decade, but never lingered long enough to help the survivors pick up the pieces–until now. Lorelei rouses his instincts, both protective and carnal. She's willing, but only to indulge in physical distraction. Colin wants more, to be the hero who slays her monsters.

Especially when it becomes clear that malicious magic is loose in their sanctuary. The danger draws them together until it's impossible to separate lust from affection, good intentions from rationalizations. Darkness is stirring at Green Pines. If they can't fight it together, they could lose everything they have left.
I'll confess: I have already read this book. *grins* Moira Rogers was kind enough to send me an Arc. Review is coming later this week
Autumn has come to New England, and with it a new threat to the city of Boston. British naval ships have sailed into Boston Harbor bearing over a thousand of His Majesty King George III's soldiers. After a summer of rioting and political unrest, the city is to be occupied.

Ethan Kaille, thieftaker and conjurer, is awakened early in the morning by a staggeringly powerful spell, a dark conjuring of unknown origin. Before long, he is approached by representatives of the Crown. It seems that every man aboard the HMS Graystone has died, though no one knows how or why. They know only that there is no sign of violence or illness. Ethan soon discovers that one soldier -- a man who is known to have worked with Ethan's beautiful and dangerous rival, Sephira Pryce -- has escaped the fate of his comrades and is not among the Graystone's dead. Is he the killer, or is there another conjurer loose in the city, possessed of power sufficient to kill so many with a single dark casting?

Ethan, the missing soldier, and Sephira Pryce and her henchmen all scour the city in search of a stolen treasure which seems to lie at the root of all that is happening. At the same time, though, Boston's conjurers are under assault from the royal government as well as from the mysterious conjurer. Men are dying. Ethan is beaten, imprisoned, and attacked with dark spells.

And if he fails to unravel the mystery of what befell the Graystone, every conjurer in Boston will be hanged as a witch. Including him
This is the sequel to Thieftaker, and I'll happily pay the 12.99 price to read it, since I really enjoyed Thieftaker.
For a librarian with a focus on rare magic books, Olivia's new job is a dream come true. She has been hired as part of a team to help manage the safe transportation of the collection of books owned by the Vampyre sorceress Carling Severan. The fact that the library is located on a mysterious island in an Other land only heightens the adventure.

Head of security for the expedition, Sebastian Hale is tired of his rootless life of adventure and finds himself attracted to the calm, beautiful librarian. But he is living a personal nightmare. He has been hit with a curse that is slowly taking away his sight, and he doesn't know if he will survive the results.

But the powerful feelings growing between them, along with Sebastian's inner turmoil, take a backseat when they learn there is a traitor lurking among their expedition team. With Elder Races politics and a priceless library on the line, they'll have to rely on each other to survive the experience.
I read an arc of this, and I think this is my favorite Thea Harrison novella. It was sizzling, witty... The perfect read when you want to be sucked into another world. .
Atlanta is a city plagued by magical problems. Kate Daniels will fight to solve them—no matter the cost.

Mercenary Kate Daniels and her mate, Curran, the Beast Lord, are struggling to solve a heartbreaking crisis. Unable to control their beasts, many of the Pack's shapeshifting children fail to survive to adulthood. While there is a medicine that can help, the secret to its making is closely guarded by the European packs, and there's little available in Atlanta.

Kate can't bear to watch innocents suffer, but the solution she and Curran have found threatens to be even more painful. The European shapeshifters who once outmaneuvered the Beast Lord have asked him to arbitrate a dispute—and they'll pay him in medicine. With the young people's survival and the Pack's future at stake, Kate and Curran know they must accept the offer—but they have little doubt that they're heading straight into a trap
Kate Daniels is back. Do I need to say more? I have wanted to read this book since I finished Gunmetal Magic
.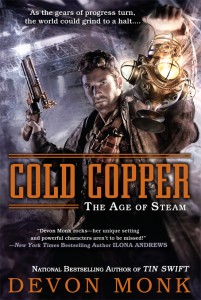 In steam age America, men, monsters, machines, and magic battle to claim the same scrap of earth and sky. In this madness, one man struggles to keep his humanity, his honor, and his hell-bent mission intact….
Bounty hunter and lycanthrope Cedar Hunt vowed to track down all seven pieces of the Holder—a strange device capable of deadly destruction. And, accompanied by witch Mae Lindson and the capricious Madder brothers, he sets out to do just that. But the crew is forced to take refuge in the frontier town of Des Moines, Iowa, when a glacial storm stops them in their tracks. The town, under mayor Killian Vosbrough, is ruled with an iron fist—and plagued by the steely Strange, creatures that pour through the streets like the unshuttered wind.
But Cedar soon learns that Vosbrough is mining cold copper for the cataclysmic generators he's manufacturing deep beneath Des Moines, bringing the search for the Holder to a halt. Chipping through ice, snow, and bone-chilling bewitchment to expose a dangerous plot, Cedar must stop Vosbrough and his scheme to rule the land and sky….
I love Devon Monk's Age of Steam novels. Her Urban Fantasy novels are good, but these are much better. Or maybe it is because I read less steampunk.